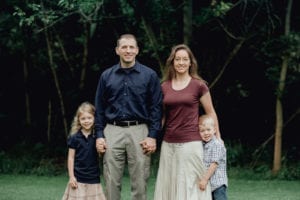 In 2013 the Lord told Josh and Melanie Vickerman he wanted them to be missionaries in Slovenia, but he impressed on their hearts separately that they should first pray to work with veteran missionaries Jim and Laura Pranger in Hungary.  A few months later, unprompted, Bro. Pranger invited the Vickermans to come live with them and train in Hungary.
In 2014 the Vickermans moved to Hungary and worked alongside Jim and Laura Pranger, teaching in the Bible Institute, preaching in the church there and at other area churches, and helping with church maintenance projects.  Mel assisted Laura in planning and preparing for youth meetings, fellowships and banquets; she taught at the Ladies' Meetings and in the children's Sunday school, and she joined in the music ministry. 
Josh's training also involved overseeing the ministry when the Prangers were away in America or Russia, as well as taking part in two, week-long campaigns, one in Hungary and one in Romania.
In March 2016, God told Josh the time had come to move into Slovenia.  On April 7thJosh, Melanie and their two children, Isabella and Ian, moved to Maribor, Slovenia where they have been ever since.